Written by Martin Shippey
The SquashMatch Tournament took place on 9th June at Woodford Wells Squash and Racketball Club in Essex as it had done the previous year, with an equally a good turnout of competitors, some for their first tournament, some who had competed for the first time last year, and some experienced tournament players.
Last year's tournament had been enormous fun – a really interesting day spent talking to other players and their partners, watching games, keeping track of the winners and losers, trying to work out who you were likely to be playing in the next round so you could watch them play and see if they had any weaknesses, perhaps get an advantage. Ooops! Did I say that out loud? I wasn't really doing that…
It didn't do me any good anyway. I was knocked out in the semis. In more ways than one; absolutely pooped would be a better way of saying it.
The rounds were played best of three, up to 15, point-a-rally (PAR) scoring. This meant that after playing three rounds most players had played at least six games, possibly up to nine! So even allowing for a few snack breaks, which just seemed to allow what felt like gallons of lactic acid to settle in my legs, by the time the later stages rolled around, my lower limbs (which are lethargic at the best of times) had all the springiness and vigour of play dough.
This year it was slightly different – a Monrad system was used to organise the tournament. Although this keeps all players involved right to the end, and gives each player a final position out of the total entered, so that everyone wouldn't be on their knees by the end of the day after playing five rounds, the first two rounds in the competition were to be played one game to 21 points PAR and the final three rounds were to be the best of three games up to 15 points PAR.
This was good news to me – at least if I made it to the later rounds my legs might not be like lumps of lead! I had been keeping an eye on Ron Ganz, a very handy looking player who I had never come across before, who was cutting a swathe through each and every round, without seeming to do more than stroll around the court, casually waving his racket at the ball occasionally. I secretly wondered if I should hide his rackets when he wasn't looking – but no – there would be no need; the shorter rounds would mean that my legs would be fresh and spring-like if I made it to the final, and I would beat him fair and square.
The day went well. With practically everyone being involved in the tournament in some way – either playing games, marking games, keeping the progress chart up to date, making sure players were on court with the right person at the right time, taking photographs, some cheering on or encouraging the competitors, the day passed very quickly and smoothly. It is a superb way to meet people and play lots of squash, and is made all the better by being held in the splendid environment of the Woodford Wells Squash and Racketball Club.
There were many interesting and exciting matches, with a seemingly insurmountable lead being slowly eroded by a determined opponent being seen on more than a few occasions; the tournament atmosphere really does seem to encourage players to dig deep for their last reserves of energy.
The reduced workload of games worked very well for most players, including Ron Ganz, unfortunately, but it didn't quite bring me the advantage I had hoped for. I had reached the final this time, but one or two of my rounds had gone to a third game – not good for the legs. Ron, on the other hand, had coasted through all his rounds without dropping a game. I started wondering if I should pay someone to tie his shoelaces together.
To cut a long story short, the final must have looked a bit like a three-toed sloth on court with a tiger. All credit to those in the gallery, who cheered enthusiastically on those few occasions when I managed to hit a lucky one off the frame, but in the end it was to no avail, and Ron ended his tournament without dropping a game.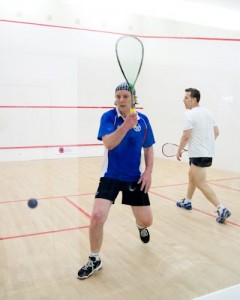 Martin Shippey (L) and Ron Ganz (R)
Putting all that to one side, the day was absolutely superb, and ended with a short award presentation session and a quick speech by Andre thanking everyone for taking part. After that, many competitors, having showered and changed in the club's well-appointed facilities, retired to a welcoming bar for drinks, and recounted the day's events outside in the June sunshine, while watching the closing overs of a very civilised game of cricket.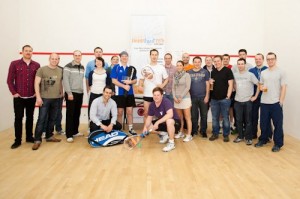 Participants of the summer tournament, with winners and runner-ups with their prizes (courtesy of Sweatband)
All thanks to SquashMatch co-founder Andre Ainsworth, the tournament organiser, who also arranged sponsorship of the very generous prizes through Sweatband.com, and fine trophies.
We're already looking forward to next year Andre!