Existing Players Login
New here?
Start playing Squash Now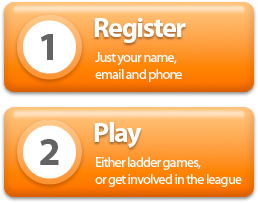 Click here to register
What our users say
When my colleague and squash partner moved to Barcelona late 2008 I started looking through Gumtree ads in search of one or more new squash partners. That's how I met Andre, although had I happened to come across him in the Tottenham Leisure centre, he would have roped me in to joining the Thursday squash nights anyway!
In January 2009 when I first joined what was then just an open squash night, I had no idea that it would develop into a well-organised and web-based squash league and that I would make new friends at the same time. I was also the only girl for a while, but very well received.
On the note of being female... I haven't been playing for a few months now as I'm pregnant and I have really missed playing and hanging out with fellow squash players on Thursday nights as well as meeting new and 'old' players in league games!

Sigrid Larsen
Member since 15th Mar 2010
Welcome to SquashMatch

Squash Match is here to make squash accessible to everyone!
We are an online squash community with members of all abilities, ranging from absolute beginners to aspiring pros! Registration is required to get in touch with other members, so if you are interested in joining or just want to find out a bit more about our services then please use the Contact Us form and we will be in touch.
Our members play their matches locally at any courts which are convenient to YOU!
If you are a club looking to put your league online please do get in touch.
---
WOMEN'S ONLY LEAGUES
SquashMatch are looking to promote women's squash and we are looking to set up a womens-only league based at Britannia (north London), Oasis (central London) and Brixton (south London). As a bonus, the first season will be free to anyone who wishes to play in any of these leagues. Drop us an email for more information, or to register your interest.
Feel free to contact us with any queries, worries, compliments or complaints!
Follow @sqmatch