Existing Players Login
New here?
Start playing Squash Now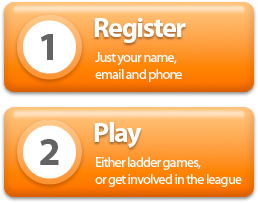 Click here to register
What our users say
When my colleague and squash partner moved to Barcelona late 2008 I started looking through Gumtree ads in search of one or more new squash partners. That's how I met Andre, although had I happened to come across him in the Tottenham Leisure centre, he would have roped me in to joining the Thursday squash nights anyway!
In January 2009 when I first joined what was then just an open squash night, I had no idea that it would develop into a well-organised and web-based squash league and that I would make new friends at the same time. I was also the only girl for a while, but very well received.
On the note of being female... I haven't been playing for a few months now as I'm pregnant and I have really missed playing and hanging out with fellow squash players on Thursday nights as well as meeting new and 'old' players in league games!

Sigrid Larsen
Member since 15th Mar 2010
Welcome to SquashMatch

Squash Match is here to make squash accessible to everyone!
We are an online squash community with members of all abilities, ranging from absolute beginners to aspiring pros! Registration is required to get in touch with other members, so if you are interested in joining or just want to find out a bit more about our services then please use the Contact Us form and we will be in touch.
Our members play their matches locally at any courts which are convenient to YOU!
If you are a club looking to put your league online please do get in touch.
---
Covid-19 Update
28 November 2020
Brixton and Hammersmith centres will be opening their squash courts from 02/11.
23 November 2020
Gyms to re-open on 3rd December. However, the fate of squash is still to be decided. Please email your local centre requesting squash courts be opened. This can be done easily and safely.
04 August 2020
Squash leagues are still on hold for the time being as many squash courts are still closed across the UK. However, the decision to re-start squash leagues lies with each individual League Manager.
Since no one can actually play squash, all players active in a league have been credited a free season. Active players will see a credit in My Account.
20 March 2020
Please note all club nights and leagues have been postponed. Gyms and sports clubs should also be closed by the end of this weekend (if not already) following government advice. We will aim to relaunch leagues and club nights as soon as gyms re-open again.
Watch this space, and keep safe.
Feel free to contact us with any queries, worries, compliments or complaints!
Follow @sqmatch