We met up with Amr Shabana after his last UK tournament, and we had a great chat about his future plans, the Wallbangers documentary, and his move to Canada. Here's what he had to say: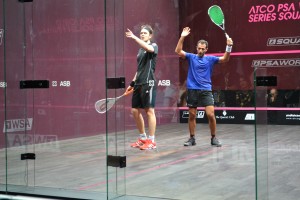 Fatema L: What are your goals for this year?
Amr Shabana: I just want to win matches. I haven't had the best run of results recently and it's very hard these days with the amount of good players so I'd like to win matches.
FL: How long do you see yourself in the game for?
AS: I think I'm one of the oldest on tour now…
FL: Is there a secret to this?
AS: No…Just prevention. Injury prevention, and train wisely and not act 18. I want to push it for as long as I can and I'm enjoying it at the moment so I don't want to think about retirement just yet.
FL: So you're thinking five years, 10 years…?
AS: (Laughs) If I can, I'll do it.
FL: You're actually looking a lot leaner these days. Is this a new training regime or diet?
AS: I had issues with my knees and I guess the less weight you carry the better it is for your knees. That's why.
FL: Rumour is that you've moved to New York. Is that true?
AS: I was in New York for a year, but not anymore. I'm moving to Toronto now.
FL: So you'll be closer to Jonathon Power as well?
AS: Yes, Jonathon Power and I have lots of friends there, like Shahier Razik and Graham Riding. There's lots of friends in Toronto and I just like it there.
FL: What was it like being involved in the Wallbangers documentary?
AS: The director of Wallbangers is a friend of mine and he loves squash and we met once at the club and he was really excited about doing something for the love of squash and his love of documentaries and we decided: 'Why not do a movie?' And there aren't any squash movies and so we started filming about six months ago and we're going to keep filming for the next couple of years and put out something exciting for the public. We're going to end filming in 2014 and after that there's going to be editing and we'll see how quickly he does that.
FL: Who would you say is your favourite player?
AS: My favourite player to watch when I was playing was Thierry Lincou. He's such a perfectionist and the way he plays he's got a very smooth style, a very smooth movement. Until now, he's my favourite.
FL: And for the future – anyone to watch out for?
AS: For the future, all the Egyptians are amazing players.
FL: But you're biased!
AS: I am biased. Of course! (laughs)
FL: What tip would you give to a player who wants to improve their game?
AS: I think not to listen to anybody too much. Not care what people say. Just keep your head down and if you have a goal, do it. Even if everybody thinks otherwise. Just do what you want even if you're far away and you're the last person in the rankings. If you can think you'll be Number 1, go for it.
FL: Do you want to start a coaching academy somewhere?
AS: I have my first squash school. We started five months ago and it's in Cairo, Egypt. I started it with a couple of squash players back home in Egypt and we're doing well. We're starting with very young kids aged between three and ten, and I'm enjoying it.
FL: Is this a rival to Al-Gouna?
AS: No, it's a club with squash courts, not an academy per se. Just a nursery.
FL: If you weren't a squash player, what would you be?
AS: On the beach!
FL: What's the worst advice anyone's ever given you?
AS: That I'm doing well. I don't like that.
FL: Why? You want people to say that you're doing okay but could do better?
AS: Yes. There's always room for improvement and if they say I'm doing well, then I'm not getting any better.
FL: Would you say it's a psychological thing?
AS: Yes. There was a saying from a famous squash player, Jahangir Khan, who said that squash is 80% mental and 20% physical. I agree with that.