Existing Players Login
Start playing Squash Now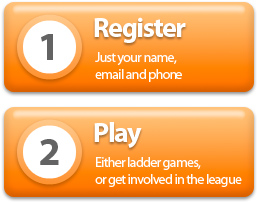 Click here to register
What our users say
I started playing squash two years ago and I was really enthusiastic about quickly improving and meeting other people who didn't mind playing long games, with minimal water breaks, just for the fun of it. I couldn't afford to join a club and initial searches of the internet suggested this was the only way. So it was with great relief that I came across SquashMatch which not only fulfilled all my criteria but also had a really handsome website, plenty of dedicated players of varying ability and organisers who seemed to genuinely care about the direction it was going.

Robert Mccrae
Member since 15th Mar 2010
Welcome to SquashMatch

Squash Match is here to make squash accessible to everyone!
We are an online squash community with members of all abilities, ranging from absolute beginners to aspiring pros! Registration is required to get in touch with other members, so if you are interested in joining or just want to find out a bit more about our services then please use the Contact Us form and we will be in touch.
Our members play their matches locally at any courts which are convenient to YOU!
If you are a club looking to put your league online please do get in touch.
---
General Data Protection Regulation
You may have noticed many websites updating their Terms and Conditions or Privacy Policy recently. This is due to the introduction of the GDPR on 25th May 2018.
We have chosen not to prompt you to agree to anything new because we have always protected your data since our inception in 2010.
We don't send any of your personal data to be collected by 3rd parties. However we do rely on some 3rd parties for webhosting (1&1), emails (SendGrid), payments (SagePay) and anonymous analytics (Google Analytics). None of these services collect or share your personal data.
We used to send member statistics to England Squash and Racketball (ESR), but not since circa 2015. We have ended our affiliation with ESR.
Our terms and conditions have not changed. Our privacy policy has only changed by being more informative and by removing ESR. For further information please see our Privacy Policy or Contact us.
Feel free to contact us with any queries, worries, compliments or complaints!
SquashMatch on Google+
Follow @sqmatch